Litecoin (LTC) NEO Price Analysis: What's Happening?
Litecoin has broken the key resistance line at $90 USD and is moving upwards. A short-term bullish zone has developed.
A comparatively slow start for NEO after a surge of over 8% in the latter stages of trading yesterday.
Litecoin (LTC/USD)
Price Analysis
High: $94.48 USD
Low: $88.90 USD
Major Resistance Level: $95 USD
Hourly MACD: Placed slightly in the Buy region and moving deeper.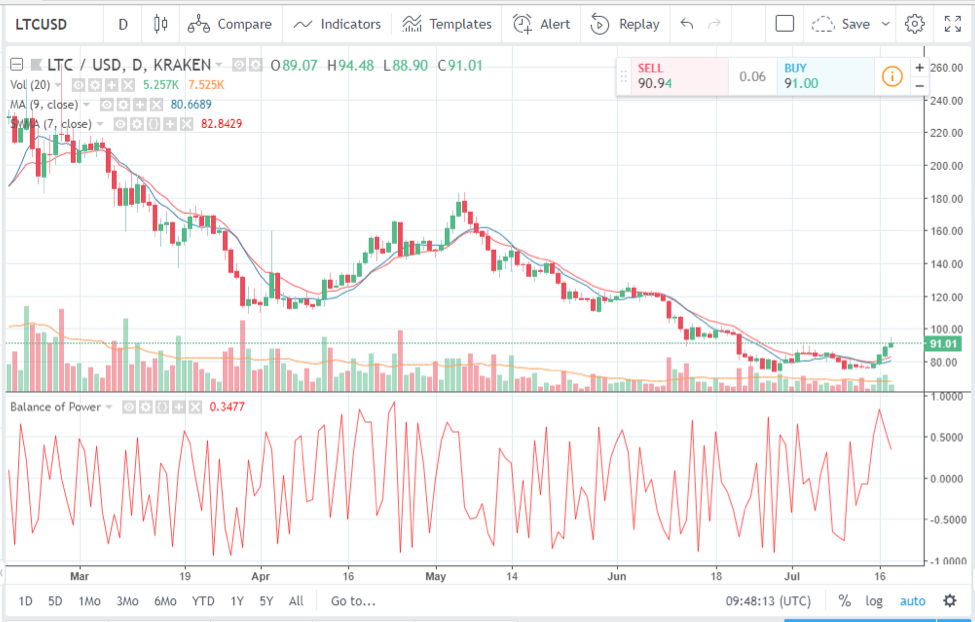 Yesterday, the price of the LTC/USD pair had made a major upward move and had gained a strong Buy momentum. Since early May 2018, after a slight surge in Litecoin's price action, the cryptocurrency had largely experienced a bearish trend. As the trading chart shows, Litecoin has been unable to maintain a strong uptrend for a longer period of time. However, this has been the case for most of the cryptocurrencies this year. The LTC/USD pair had been correcting itself and slightly moving towards the green zone from 13 th July, after the price had fallen below the $80 level on 10 th July.
At the time of writing, the price of Litecoin (LTC) shows $91.01 USD and the moving average (blue line) marks 80.6689. Green candles have again started forming on the LTC/USD chart from 15 th July, as can be observed from this chart. And, the candles continued to be in green this had gradually developed a bullish pressure on the buyers. Thus, the technical analysis from Trading View shows that the cryptocurrency is placed in the Buy region.
NEO (NEO/USD)
Price Analysis
High: $40.52 USD
Low: $38.53 USD
Major Resistance Level: Near $41 USD
Hourly MACD: Placed slightly in the Buy zone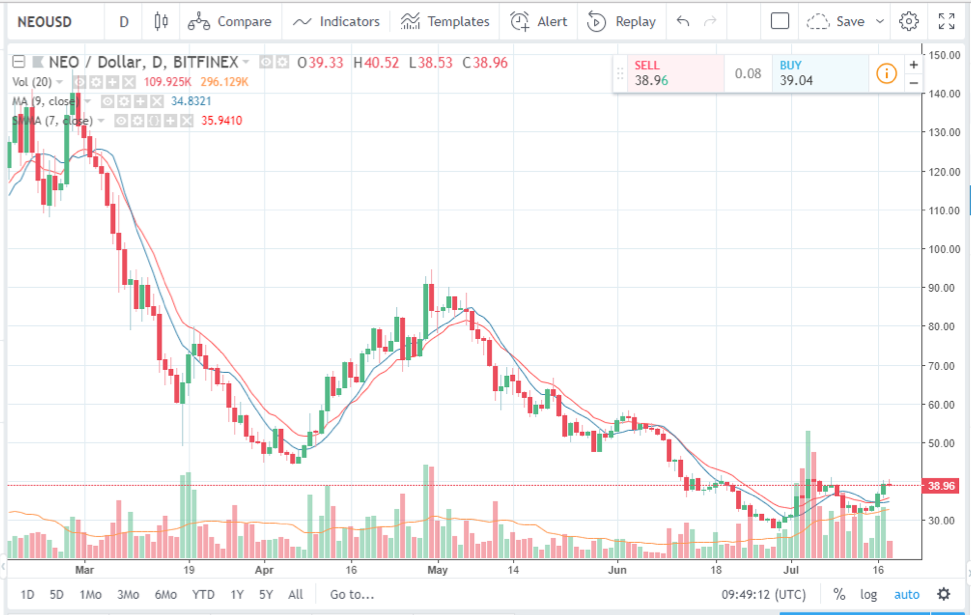 Yesterday, later in the day, the NEO/USD pair had jumped by over 8% after having a comparatively slow start. NEO has also been experiencing quite a similar situation to Litecoin. The price action of the pair NEO/USD had been showing an overall downtrend since 30 th April 2018 after experiencing a short gradual uptrend since 7 th April 2018. As can be observed from the chart, there had been a major downtrend prior to this event. NEO/USD pair had for the past three days sported green candles. So far today the cryptocurrency has been experiencing usual volatility. At the time of writing, as can be seen from the trading chart of NEO/USD, the crypto coin is trading at $38.96 USD. With major resistance placed near the $41 level and the moving average (blue line) at the time of writing marking at 34.8321, there is still a chance for the price action of NEO (NEO) to continue showing an uptrend. The pressure is still on the buyers that place the cryptocurrency slightly in the Buy zone.
The news that NewEconoLab, the team of NEO developers has decided to do technology promotion by offering $500,000 to those who will develop the best blockchain-based gaming application may attract more investors. As of now, it is to be seen whether NEO crosses the $41 resistance line or again moves into the bearish zone.
For the latest cryptocurrency news, join our Telegram!
Disclaimer: This article should not be taken as, and is not intended to provide, investment advice. Global Coin Report and/or its affiliates, employees, writers, and subcontractors are cryptocurrency investors and from time to time may or may not have holdings in some of the coins or tokens they cover. Please conduct your own thorough research before investing in any cryptocurrency and read our full disclaimer.
What's Happening With Litecoin?

The price of Litecoin on May 5th, 2018 was $177.73, the price of one Litecoin today is $75.93. Litecoin continued to decline from $177.73 to $31.56 by the end of 2018 painting a dire outlook for the coin. Individuals would soon see a revitalization in the silver to bitcoin's gold in the new year. Litecoin would continue to go on a bullish rampage and rise from $32.00 to a peak of $92.37 on April 6th 2019. The coin would then decline slightly over the next month, taking it to where it is today, at $75.93.
The coin has been on quite a bit of a roller coaster over the past year, let's take a look at some of the key events which took place within the Litecoin community and protocol.
Charlie Lee Steps Back From Twitter
The founder of Litecoin stepped back from Twitter and hasn't tweeted as much due to needing to focus on real work and minimize distractions. The founder admitted on an interview with @Cindyblockchain, that there's "too many trolls and haters on Twitter."
Potential MimbleWimble of Integration into Litecoin
The creator of Litecoin has also admitted that Litecoin does not possess one key aspect of current money, it is no' fungible. He stated that "fungibility is the concept that every coin is identical to every other coin", minimizing discrimination of coins. Yet, due to the transparent nature of the Litecoin blockchain, one may tell the difference between different coins and transactions as they can be tracked. As such, the Litecoin creator looks to integrate Mimblewimble into the protocol.
The Litecoin Reward Halving
The price run-up of Litecoin may be the market and its anticipation of the Litecoin Block Reward Halving event slated to take place on August 6th2019. The Litecoin block mining reward is set to halve on the occurrence of 840,000 blocks. The reward is set to decline from 25 Litecoin to 12.5 Litecoin.
Partnership With Cobo Vault
The Litecoin foundation recently noted their collaboration with the "world's first all-around secure, military-grade cryptocurrency hardware wallet. Litecoin enthusiasts will have access to the Litecoin-branded Cobo Tablet.
Litecoin Price Prediction: Litecoin Gets Major Wall Street Exposure
Litecoin News Update
Litecoin prices are consolidating just as we watch the lemmings commit mass suicide. But it shouldn't scare you if you're a contrarian. Today's Litecoin news update should bring you some comfort.
The "father of value investing" first introduced us to the "lemming behavior." According to Ben Graham, when these lemmings (the nervous sellers) see a price drop, they hasten to sell off their holdings in fear of losing profits. They run for the cliff and drive themselves off to their death.
At this point, the value investor holds on to his investments. It is this value investor who reaps the best returns in the longer run.
I don't for a second doubt the power of value investing even in the most speculative of all investment spaces—cryptocurrencies. After all, this is the tenet that ties us in the crypto-brotherhood—that is, "HODL," which is a constant reminder that we must hold onto our Litecoins for our dear lives.
What we are seeing right now is a classic example of a price correction after Litecoin's moonshot rally.
In the past five days alone, Litecoin first doubled in price and then reverted about 30%. The lemmings tend to overlook the "first" part but the investors must not.
The reality is that Litecoin is just beginning to gain visibility in the mainstream. We're seeing both investors and speculators coming into this newfound investment space.
While the investors keep prices stable, it is the speculators who add to its volatility. And you can expect Litecoin's price volatility to grow just as Wall Street begins to pour big money into it.
Take note that amid all the doomsday commentary in the past 24 hours, investors missed a major development.
Litecoin has just been added to the Bloomberg Terminal—the premium data service primarily used by banking sharks, big hedge funds, and Wall Street traders.
Bloomberg's decision to add Litecoin and two other digital currencies—Ethereum and Ripple—to its service, after Bitcoin, validates the fact that there is significant investor interest out there. Big money may now be lining up to, at least consider them, if not invest in them.
At the same time, rumors of Litecoin futures are also making rounds on the street.
The developments should serve as a pre-warning to investors to expect more price volatility in the coming days.
Litecoin founder Charlie Lee reminded investors not to speculate on prices too much and just "HODL."
"Rein in your excitement," he said, as prices take unexpected swings with more and more speculators jumping aboard.
What's Happening to Litecoin Prices Today
The Litecoin price has dropped about 9.44% in the past 24 hours. At the time of writing, the average LTC to USD rate was $268.54.
Prices seem to be going haywire on the chart, just as the buyers and sellers face off. The good thing is that volume is holding steady over $2.0 billion.
Daily Litecoin Price Chart
The majority of the trades are flowing in from the American trading exchange GDAX, followed by Taiwan's Bitfinex, and South Korean Bithumb.
Analyst Take:
We remain bullish on our Litecoin price prediction for 2018, as this digital currency gains traction in the mainstream. Despite the recent turbulence in prices, our LTC price target is rock-steady at $400.00.
NEWS FLASH: What is Happening With Litecoin Will Happen With Bitcoin x 100? Are You Ready?
NEWS FLASH: What is Happening With Litecoin Will Happen With Bitcoin x 100! Are You Ready?
Planting Bitcoin: Traits of Money
https://medium.com/@danhedl/planting-bitcoin-56bd1459cb23
🏺Buy Me A Beer 🏺
►BTC: 3DYCrB2RCrREM6y3Ahxxuv9JjSVd6yrbz4
►BTC: 3DYCrB2RCrREM6y3Ahxxuv9JjSVd6yrbz4
#bitcoin #cryptocurrency #news #btc #ethereum #eth #cryptocurrency #litecoin #altcoin #altcoins #eos #forex #money #best #trading #bitcoinmining #invest #trader #cryptocurrencies #top #investing #entrepreneur #business #success #investment #finance #bitcoins #motivation #coinbase #stocks #wallstreet #investor #ico #wealth #bullish #bearish #cryptolive #altcoindaily
***NOT FINANCIAL, LEGAL, OR TAX ADVICE! JUST OPINION! I AM NOT AN EXPERT! I DO NOT GUARANTEE A PARTICULAR OUTCOME I HAVE NO INSIDE KNOWLEDGE! YOU NEED TO DO YOUR OWN RESEARCH AND MAKE YOUR OWN DECISIONS! THIS IS JUST EDUCATION & ENTERTAINMENT! USE ALTCOIN DAILY AS A STARTING OFF POINT!
This information is what was found publicly on the internet. This information could've been doctored or misrepresented by the internet. All information is meant for public awareness and is public domain. This information is not intended to slander harm or defame any of the actors involved but to show what was said through their social media accounts. Please take this information and do your own research.
bitcoin, cryptocurrency, crypto, altcoin, altcoin daily, blockchain, decentralized, news, best investment, top altcoins, ripple, ethereum, tron, stellar, binance, litecoin, 2019, 2020, crash, bull run, bottom, crash, tether, bitfinex, rally, halving, havening, block rewards, price, cut, bakkt, fidelity, news flash, breaking, are you ready, 100x, tone vays, murad, willy woo, nbc, cnbc, predictions, prediction,
Litecoin Price Forecast: Should You Fear a Litecoin Crash Now?
Litecoin News Update
The "chickun" is finally taking a breather from its exhausting run with the bulls. The rally in Litecoin prices is reversing and fears of a Litecoin crash are beginning to mount. Should you be scared?
It was almost certain for prices to head for consolidation after the aggressive bull run. If it's any consolation to you, I don't quite see a Litecoin crash happening—that is, if investors hold onto their Litecoins.
For a crash to occur, the majority must unwind their positions. In which case, a precipitous drop in prices would become inevitable.
This is where the community's slogan—"HODL"—finds its application. "Hold On for Dear Life" or be prepared to face a crash.
Litecoin investors are currently divided into two clubs: the "devotees" and the "sheep."
The devotees are in it because they believe in the idea of a decentralized cryptocurrency eventually replacing fiat currency as a legitimate mode of payment. They are the ones who have invented the slogan and will likely adhere to it.
The sheep only jumped on the bandwagon following their neighbor as they didn't want to miss out on his get-rich-quick investment idea. They follow the "herd mentality," which can reverse at any moment. It is this second kind of investor that threatens Litecoin prices.
But don't worry too much. Litecoin has already survived one crash before, when nearly all of its market value was wiped out. This was back in late 2013 and early 2014, when prices dropped nearly 90%. Yet, prices recovered in the following years as we witnessed a remarkable rally. So I don't doubt for a second that it cannot survive once again.
Remember that cryptocurrencies are marred by risk and high volatility. They are still relatively young, and maturity will come with time. So those who hold (or HODL) for the long run will likely realize stable gains.
At this point, let me pass on a piece of advice right from Litecoin founder Charlie Lee himself: "If you can't handle Litecoin dropping to $20.00, don't buy."
What's Happening to LTC Prices Today?
At the time of writing, the Litecoin price was down about 10.69% in the past 24 hours. The average LTC to USD rate was just under $300.00. The LTC to BTC rate also dropped, but by a slightly less margin. That's because Bitcoin prices were likewise down a little over two percent in this period.
Daily Litecoin Price Chart
Average volume is, nonetheless, holding steady over $2.0 billion. American exchange GDAX remains the biggest driver of volume, followed by South Korea's Bithumb. The two jointly made up about a third of all trades in the past 24 hours.
Analyst Take:
We're remaining greedy as the others turn fearful, as we "HODL" on to our Litecoin price forecast of $400.00 for 2018.

Categories: